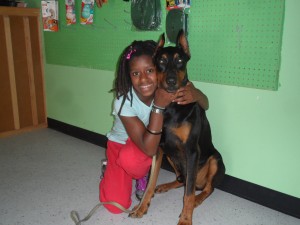 We have a training program tailored to fit your pet & family needs. We treat every dog as an individual, and utilize the most recent methods and psychology of a dog's learning & memory process. We use methods that motivate and encourage dogs to want to learn & please their family.
The oldest dog that we successfully trained was 11 years old. It is never too soon or too late to teach your dog manners. See our pricing page for current rate information
Puppy Kindergarten | Resident Training | Group Classes | Private Lessons
Puppy Kindergarten is a 5 week program that is formatted specifically for puppies and their families. We begin the training for puppies' ages 9 weeks to 16 weeks of age. The entire family is welcome to participate in our program. The program is designed to prepare the puppies to become a S.T.A.R. Puppy and a Canine Good Citizen. We cover the beginner basic obedience commands on leash. Heel, sit, down, stand, come, sit stay, down stay, leave it, no jump, off, go to your place, and much more. We discuss grooming, immunizations, food, housebreaking and crate training. The last 15 minutes of class is for the puppies to play with each other and to learn to get along with other dogs. We do use some treats as reward, but we also use verbal praise and gentle patting. Dogs on the whole really want to please the people they respect as their leaders, they just need guidance, rules and constant re-enforcement or reminders. Most importantly is that you are consistent and that all family members, and people who care for your pup are all aware of the rules and follow through. At the completion of the course your pup receives a diploma. An option to test for * S.T.A.R will be given and a certificate will be awarded.
Resident Training Is our featured program designed exclusively by Canine College 45 years ago for all breeds of dogs. This is a course in which the Dog is boarded with us and trained by our highly qualified staff here on campus. Your dog will be comfortable and happy during his stay. He will have his own immaculately clean area, fresh water at all times, and the option to go outdoors when needed. This course is for very busy families or for people who just do not have the time to teach their dog manners. Some dogs have serious problems that require a professional dog training instructor to solve. This is a two week program, ( we also have 1 week, 3 week and 4 week program available) and each dog is trained daily on an individual basis according to the needs of each family. Dogs are taught good behavior with all basic obedience commands including voice and hand signals with our professional instructors who focus on specific problems that are current. After one week of training the family returns to Canine College for private instruction to learn how to apply the commands, voice tones, and the use of proper hand signals that your dog has learnt while residing with us. At the end of the second week the family returns for another instruction session and at which time you take your trained dog home. A follow up private lesson is given after your dog has returned home. This is an essential feature and is included in all 2, 3 and 4 week programs. Training, Behavior Modification, Boarding, Private handling instruction and Follow-up class are included in the total package. We encourage the entire family to participate. We have a large indoor heated facility for training and housing each student. Our Instructors are A+ in their field, and have over 90 yrs. experience in training all breeds of Dogs for home companionship and competition. No problem is to large, no dog is too old to learn. Therefore "Don't deprive your dog of a College Education". All dogs must have current updated immunizations for all programs. Rabies, Distemper booster + CPV & Canine Cough
Group classes begin with a small group of handlers and dogs that are taught the basic obedience commands. You are then responsible to practice at home and return weekly for (5) five weeks. The entire family is welcome to attend and participate. The dog then learns to obey with many distractions. The courses available are Elementary, Advanced Elementary, Beyond Advanced, and Preparation for the **Canine Good Citizen Test, *** Registered Therapy Dog Testing, and Off Leash training.
Elementary GroupClass is designed for the owner and dog with little or no experience. It is the next level after Puppy Kindergarten or for dogs older than 16 weeks. During the 5 week course we will teach and reinforce the basic obedience commands. Heel, sit, down, come, come front, sit-stay, down-stay, not to pull or jump up on people or furniture. Some other issues may be Graduation Sit Stay addressed such as biting on hands or your clothing, biting the leash during walks or while training. All commands are verbal with hand signals. All classes use a positive balance of reinforcement including food, praise and play At the completion of the 5 week class we will present you with a diploma, and the option of taking * the S.T.A.R. TEST.
Elementary II is the Continuation of Elementary I . This course is for dogs who are ready to take the** Canine Good Citizen Certification. We will help you to be confident to take the test. At this time we will also reinforce all of your previous learnt obedience commands and additional Guidelines will be introduced. We can also prepare you and your dog for the ***Registered Therapy Certification for teams that would like to visit nursing homes, hospitals, schools or individual visits
Advanced Elementary is designed for owners & dogs with an objective geared towards the groundwork for off leash training. Perhaps you may have the intention of competing in AKC obedience Competition. Many owners receive enjoyment of giving their dog more freedom around the yard, in parks, taking walks or strolls in the forest and jogging.
Beyond Advanced and Off Leash Classes is for dogs that have passed their Canine Good Citizen Test, and have completed the above levels of group, private or resident training. The atmosphere is relaxed and positive, reviewing all basic obedience commands with additional activities including some agility and rally. A.K.C. obedience exercises and retrieving are also offered. Our dogs are then tested during these exercises, to maneuver through selected activities and obstacles off leash.
Competition Training
We specialize in training & handling for A.K.C. competition in the conformation ring, as well as obedience from Novice to Utility. Training a dog for Sch H 1 through to Sch H 111 is also a specialized program geared towards competition. Competition training involves many months of intense training, dedication and learning how to properly care, feed and condition your dog.
Aggression
Aggression and bad social skills requires a specialized field of training. Aggressive behavior towards people or other dogs is an issue that requires an evaluation to be addressed on a private level with our expertly, highly qualified Training Director who boasts over 40 years' experience. We will interview your family along with your dog and help you to decide the programs most suited for the progress of your dog.
Protection Training
This program is Breed Specific. We will train your dog to react on command or on his own when the family is away or sleeping. This course starts with obedience instruction to be able have control of your dog, and progresses to build confidence. We will teach him or her some obstacle maneuvers, and simulate many situations while responding to sounds and movements, We will train you and family to control your dog and to feel comfortable knowing your dog is always on duty.
Tracking
Another great way to have fun and teach your dog a fun skill. A Systemactic program that teaches your dog to follow the scent path of a person, retrieving and finding objects along the way. Dogs can be taught to discriminate for a variety of substances.
Fun Nose Work
Nose Work is a class for all dogs to use their strongest sense. The SENSE OF SMELL. The object of these classes is to have fun while playing games and hunting. Fun Nose Work is for dogs who need a lot of mental and physical stimulation, for dogs who enjoy individual attention, dogs who need a boost of confidence and for owners who just want to have fun with their dog. All dogs in class work one at a time. Toys & food are used as rewards
Private lessons are a five week course directed and customized to take care of your immediate concerns. Problems solving is prioritized addressing specific behaviors according to your needs. You, your family and your dog return once per week for (5) five weeks. You arrive and the training begins. The lessons are 45 to 55 minutes long with your own private qualified instructor. You then go home and review your exercises and commands daily, returning the following weeks for review, and to learn new commands. This course that allows the whole family to participate in the training of your dog. We are available weekdays, weekends and nights.
Tough Love Documentary Trailer, An Anchorhold Films Production (http://www.anchorholdfilms.com) from Chad Montrie on Vimeo.
* The S.T.A.R PROGRAM is a test that is performed during the 5 weeks of training. The 6th week is the completion of the test. It is open for all dogs up to 1 year of age. The 20 categories are checked off during each class and continues until the sixth week. S=socialization T=training A=activity R=responsibility
The **CANINE GOOD CITIZEN test is for any and all breeds of dogs. It is to ensure that your dog can be a respected member of the community and has been trained to be well behaved in the home, in public and around other dogs. Dogs that pass all 10 items of the test may order an official CGC certificate from the American Kennel Club.
The ***REGISTERED THERAPY DOG CERTIFICATION is a test for dogs and owners to complete and pass so that they may be able to take their dogs on visits to Nursing Homes , Hospitals or to Individuals that may need comforting or want to enjoy the presence of a well behaved dog. This test is the next level after Canine Good Citizen.